Bins and Clean ups
Waste Management
Barefoot Conservation in collaboration with the Environment for Raja Ampat Government, are starting our Waste Management Community Project. Funds from volunteers expedition fees & the Government will provide Arborek Island with waste bin's.
Working together the local community & Barefoot Conservation will paint all these bins making them atractive and interesting. The sense of belonging, is the message that Barefoot Conservation wants toinstil in the local communities. We hope these bins will encourage the many tourists who come to Arborek Island " to more and more put their trash, in waste bins and not one the floor".
The kids from the villages of Yanbuba, Yanbekwan, & Arborek, will take part in a drawing competition about Waste & the Animals of the Sea. Their pictures will be collected into designs for merchandise sold to protect the environment of Raja Ampat. Sounds cool !
Beach Clean Up
Beach Clean Up ?. On Raja Ampat ?.
Yeah, we doing this every Tuesday and Friday morning.Together with the Woman and Kids of Arborek, we participate to keep this island free from waste. Nothing is impossible if we can tried hard right..?.
Volunteers go together with the woman and kids, and importantly share their knowledge about waste and how to keep trash from the sea.
Starting at 8 am, with the local people we start to walk around the north of the island until south, while we collect rubbish we also can learn a few local Indonesian/Papuan words.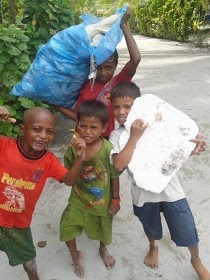 We never know, sometimes they will gave us a good input about how to recycle the waste. Our next Community Program is "Trash Class", sounds interesting right..?
If you want to know more, please come and join an expedition in Raja Ampat and Make a Difference your see first-hand!!