It was late afternoon on a sunny Saturday, and the scene was set for an epic volleyball match between the Barefoot Braves and the Raja Ampat Raiders.


The challenge was thrown down by Dany the Barefoot dive boat driver and Simon accepted, the prize....the most sort after item on the island....a cold case of beer!!
Tensions were high during the warm up, with such a major prize up for grabs, Desiree Barefoot's Science and Community intern kept score, of a first to 25 points, best of 5 set format.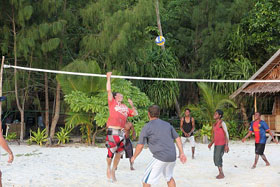 The Barefoot team got off to a flying start, with their unorthodox style at first confusing the opposition, leaving Theo the sites boat/engine mechanic to show off his YMCA skills. 
However Barefoot's good start did not last long and after trading spikes and points, it soon become apparent Barefoot would need to bring in some ringers!
So we called up Raymond (Mangkur Kodon homestay manager), Dany and Maria Sharapova (aka Claire one of the volunteers) to help bolster the baseline defence.
Sadly this did not help the Barefoot team and as the game went on into the night with the sun setting behind us, the Raja Ampat Raiders took control, the glory and the holy grail of a cold case of beer!
All was not lost however as both teams chilled out with a cold beer as the sun set and discussed exaggerated stories of how high we all jumped!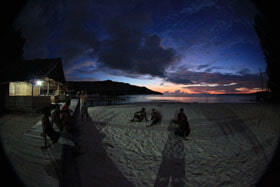 One nil to the Raja Ampat Raiders, but re-match accepted for next Saturday! We urgently need some 6 ft tall volunteers!!!